day 1 - aug 22, saturday
hastings to buffalo, ny, via catskill st. park, ny.
stop in cooperstown, ny for lunch
8-9 hours driving time, then go see Niagra Falls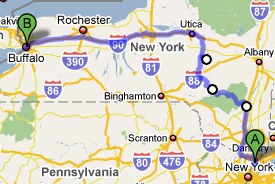 day 2 - aug 23 sunday
buffalo, ny via London, Ontario, kalamazoo, MI, and chicago, IL, to Madison, WI

11 hours driving time, plus border crossing times.  long day?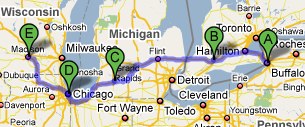 Madison, WI via Eau Claire, WI, to Sioux Falls, SD, or wherever we get to.

6-7 hours driving time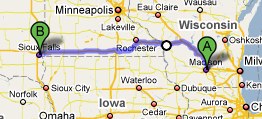 -- baseball notes:  sioux city explorers play in sioux city (not falls!) at 7:05pm
day 4 - aug 25, tuesday
Sioux Falls, SD across South Dakota to Rapid City, SD, and Mr. Rushmore.

5 hours driving time, followed by looking-at-mountains and stuff.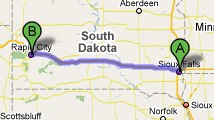 day 5 - aug 26, wednesday
Rapid City, SD to Devils Tower National Park, WY, then to Sioux City, IA

10 hours driving time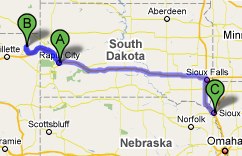 Sioux City, IA to Winterset, IA

3 hours driving time, then gardens, cats, parents, sweet corn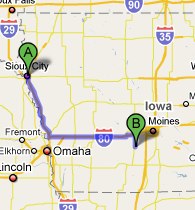 Winterset, IA to Louisville, KY

9-10 hours driving time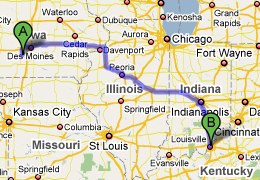 --- baseball notes:  louisville bats play 7/28 in louisville 7:05pm
day 8 - aug 29, saturday

Louisville, KY to Richmond, VA
driving time 8-9 hours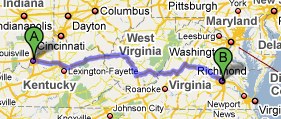 -- baseball notes:  norfolk tides play 7/29 7:15pm in norfolk, va
day 9 - aug 30, sunday

Richmond, VA to Hastings on Hudson, NY
driving time 6 hours